Meet Executive Chef Scott Hines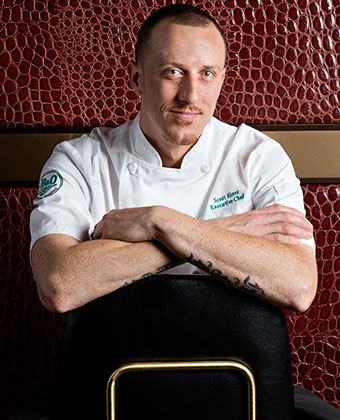 It comes as no surprise that Scott Hines discovered a love for cooking when he was barely 10 years old, having experienced the culinary world through his father, a Philadelphia-area chef. Early on, Hines learned how to navigate a kitchen, later honing his skills at a bounty of local restaurants.
Chef Hines joined the Kimpton family in 2015 and today he proudly leads the team at B&O American Brasserie, mentoring peers along the way. Boasting more than 15 years of experience in the restaurant industry, Hines has been featured in the Baltimore Sun, on local cable TV shows, and he was a winner on Food Network's Guys Grocery Games. His impressive resume lists such venues as the Four Seasons Hotel's Wit & Wisdom and Pabu, Monogram Hospitality Group's Heavy Seas Alehouse, Waterfront Kitchen, and Farmstead Grill, as well as, The Wine Market Bistro. Today Hines resides in Baltimore with his wife and two children.