Bring the whole gang to our kid-friendly hotel in Baltimore
For super-simple travel planning, book a family-friendly suite at Kimpton Hotel Monaco Baltimore Inner Harbor and chug into town for a getaway that the whole crew can enjoy together. Our hotel places guests in a welcoming downtown zone near Baltimore's bustling Inner Harbor and the Mount Vernon Arts District, meaning countless cultural and culinary riches sit not far from our grand building. We're about a half-mile from hot-spot destinations like the National Aquarium, Baltimore Water Taxi, Camden Yards, and the Babe Ruth Birthplace Museum, and the B&O Railroad Museum is only a mile away, too.
At Kimpton Hotel Monaco Baltimore Inner Harbor, we've thought of everything from mealtime to bedtime when taking your wee ones' wishes and needs into account. We're talking draws like kids' welcome gifts, pint-sized animal-print bathrobes, and your very own on-loan pet goldfish. Our on-site restaurant, B&O American Brasserie, serves three meals a day in a family-friendly space that appeals to everyone's tastes.
Clans love settling into our 400-square-foot Pullman Suites, designed to sleep up to six people in two double beds plus two bunk beds (placed in a separate room). Two flat-screen TVs, an Xbox, and other luxe amenities mean that everyone's entertained and happy during Monaco stays.
And if you hard-working parents crave a much-deserved night on the town (sans the little tots in tow)? We're happy to connect you to accredited babysitting services that will ensure everyone has a wonderful evening apart — and feels refreshed for another day of sightseeing togetherness.
Ready to book your stay? Consider one of our fun family packages.
Breakfast for $1 More
A dollar can go a long way! Enjoy Continental Breakfast at B&O Brasserie for two registered guests for just $1 more than our Best Flexible Rate (a $50 per night value).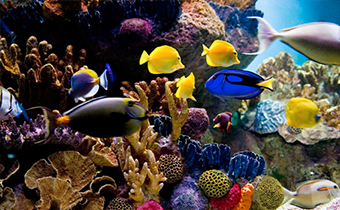 Blacktip Reef Aquarium Package
Come visit Blacktip Reef, the coral-filled exhibit with colors, lights and movement right in the heart of the National Aquarium. Be a part of the experience as you watch through floor-to-ceiling windows that allow you to come face-to-face with the Blacktip Sharks!