We gift you enticing hotel meeting packages
We know how much hard work goes into planning events and meetings, and we're here to lighten your load in any small or big ways we can. Check out our promotions and packages that lead to 3% off the master bill as well as tempting perks that make the planning process feel like a fun project versus a laborious chore.
Spirits Up. Party Down.
Crafted cocktails + seasonal eats…get you ready to mingle. Choose from one of our three holiday party packages when you host your event now through January 31, 2017.
Book by December 31, 2016.
A Different Way to Meet
This summer, see how having meetings and events the Kimpton way makes all the difference. Save up to 5% off the master bill + choose from perks like: upgraded seasonal themed breaks, complimentary 1-hour wine reception & more!
Good for stays thru Dec, 31, 2016 when you book by Aug 29, 2016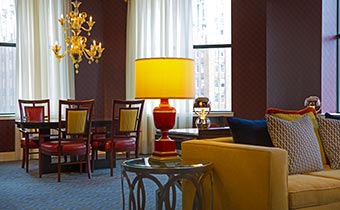 Small Groups Save up to 30%
Need only 6–9 guestrooms? Call Today: 1-877-785-0910.
Small Group Desk Hours of Operation: 8 am - 7:30 pm Eastern Time.
Learn More